Categories
Manufacturers
Cart Contents
Your cart is currently empty
Subtotal: $0.00
Find Us On
Sale Item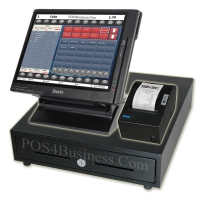 NCC SPT-3000 Touch Screen POS Bundle
$2195.00
Share This Site
Knowledgebase
Security Seals
Product Details
SHARP ER-A420 Cash Register

SKU: ER-A420

List Price:
$699.00
Your Price:

$629.00

Your Savings:
$70.00
Quantity:
Programming:

Share This Product:
Overview
SHARP ER-A420 Cash Register
!!! DISCONTINUED MODEL !!!
REPLACEMENT MODEL: Sam4s SPS-340 (Click to View)
Enhance your hospitality business with the advanced features and funtionality of the user friendly ER-A420. With more standard features than you'd expect to find in its class, the robust ER-A420 delivers the reliability, value and flexibility, for your business to run at peak efficiency.
Flat Keyboard

- 119 Keys
Thermal Receipt and Journal printer
99 Depts - 1500 PLU/UPC codes
Open Guest Checks, Previous Balance Look-up
3 Menu Levels
UPC learning function
10 Mix and Match Tables
Bottle Return
2 price levels
Cash/Check Declaration
Credit Card Interface
Supports; scanner, scales, coin dispenser
2 line alpha-numeric LCD display
2 RS232 ports