Categories
Manufacturers
Cart Contents
Your cart is currently empty
Subtotal: $0.00
Find Us On
Sale Item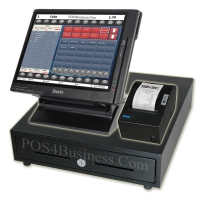 NCC SPT-3000 Touch Screen POS Bundle
$2195.00
Share This Site
Knowledgebase
Security Seals
Product Details
Sam4S ER-655II Cash Register

SKU: ER-655II

List Price:
$749.95
Your Price:

$529.00

Your Savings:
$220.95
Quantity:
Memory Option:
Programming:

Share This Product:
Overview
Sam4S ER-655II Cash Register
• DISCONTINUED MODEL •
REPLACEMENT MODEL: SPS-320 or SPS-340

Value Priced Registers Loaded with POS System Features! The operator screen clearly sets the ER-655II apart from traditional low-cost ECRs. Just glance at the screen to verify or fill an order. If necessary, you can page up or down through larger transactions. Easy-to-follow messages guide your operators with minimal training. On-screen programming simplifies programming of new PLU items and price changes. Managers can access sales, inventory, and financial information and view it directly on the screen. With an optional DataTranTM credit terminal, you can process credit transactions using the printer, keyboard and display of the cash register. Processing both cash and credit transactions on your SAM4s ECR will improve secuity, reduce paperwork and will save time, counter space and supplies.
Adjustable Multi-Line Backlit Operator Screen
Dot-Matrix Printer (2 1/4" Paper)
Flat Keyboard
RS-232C Ports Available For Point of Sale Options
Inter-Register Communications
Available For Store Wide Report Consolidation and Programming
Easy-to-Follow Messages Guide Your Operators With Minimal Training
Up to 5 Price Levels for Each PLU
Up to 5 PLU Modifier Keys
Up to Approximately 10,000+ PLUs for Large Item or UPC Files
Operation for up to 99 Clerks with
Separate Report Totals
Built-In Electronic Time Clock
Hard or Soft Check Tracking
Heavy-Duty Cash Drawer with 5 bill / 5 coin
99 PLU Group Totals to accumulate totals of individual PLUs
Management X and Z reports include financial, PLU, clerk, group and sales by hour.
Check, cash, and up to eight charge keys.
Store your detailed sales journal in memory for printing at the end of the day.