Categories
Manufacturers
Cart Contents
Your cart is currently empty
Subtotal: $0.00
Find Us On
Sale Item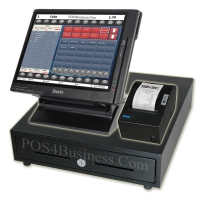 NCC SPT-3000 Touch Screen POS Bundle
$2195.00
Share This Site
Knowledgebase
Security Seals
Product Details
Sam4S ER-290 Cash Register

SKU: ER-290

List Price:
$349.95
Your Price:

$236.95

Your Savings:
$113.00
Quantity:
Programming:

Share This Product:
Overview
Sam4S ER-290 Cash Register
• DISCONTINUED MODEL •
REPLACEMENT MODEL: Sam4s ER-260EJ

A compact low-cost electronic cash register with full size ECR features. Accounting is a breeze with daily and period-todate reports while hourly reporting helps you plan for busy or slow times. The SAM4s ER-290 features selectable receipt or sales journal print. If 2-ply carbonless paper is used, the printer generates both a receipt and a sales journal.
2 1/4" Dot Matrix Single Station Printer
Fast and Easy to Use
Accuracy and Economy
Four Tax Tables
200 Preset or Open Price PLUs
12 Programmable Departments
Fast, Durable Single Station Printer
Programmable Management Controls
PLU, Department, Hourly Sales, and Period-To-Date Reports
Heavy Duty Steel Cash Drawer With a 5 Bill and 5 Coin
Cash, Check, 2 Charge Keys, Paid Out and Received on Account
Post Tendering
Optional Compulsory
Tendering on Cash and Check Keys
Receipt After Sale
Recommended Replacement for Discontinued Model: Samsung ER-240