Categories
Manufacturers
Cart Contents
Your cart is currently empty
Subtotal: $0.00
Find Us On
Sale Item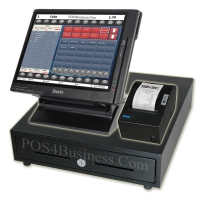 NCC SPT-3000 Touch Screen POS Bundle
$2195.00
Share This Site
Knowledgebase
Security Seals
Product Details
Sam4S ER-285M Cash Register

SKU: ER-285M

List Price:
$419.95
Your Price:

$289.95

Your Savings:
$130.00
Quantity:
MSR:
Programming:

Share This Product:
Overview
Sam4S ER-285M Cash Register
• DISCONTINUED MODEL •
REPLACEMENT MODEL: Sam4s ER-265EJ

A commerical grade electronic cash register with full size ECR features. Accounting is a breeze with daily and period-todate reports while hourly reporting helps you plan for busy or slow times. The SAM4s ER-285M features selectable receipt or sales journal print and you can save programs and reports with and SD memory card.
Flat, Spill-Resistant 49-Position Keyboard
Built-In SD Card Reader Standard
Electronic Journal Replaces Need for Journal Paper Rolls
Stylish Black Cabinet Complements Most Retail Settings
2-Line Backlit, Alpha-Numeric, Liquid Crystal Display
High Speed 13 Lines Per Second Thermal Printer
Wide 2 1/4" (58mm) Thermal Paper
Easy Auto-Feed Paper Loading
Optional UPC Scanning
Heavy-Duty Cash Drawer with Media Slot
3-Position/4-Function Cash Drawer Lock
Programmable Graphic Logos for Coupons and Advertising Messages
Standard RS-232C Port for External Devices
Two Additional Ports Optionally Available
Blue Fluorescent Front and Rear Displays