Categories
Manufacturers
Cart Contents
Your cart is currently empty
Subtotal: $0.00
Find Us On
Sale Item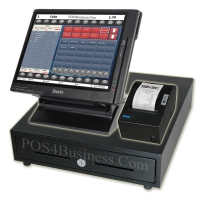 NCC SPT-3000 Touch Screen POS Bundle
$2195.00
Share This Site
Knowledgebase
Security Seals
Product Details
SHARP UP-700 Cash Register

SKU: UP-700

List Price:
$1395.00
Your Price:

$879.00

Your Savings:
$516.00
Quantity:
Magnetic Card Reader:
Memory Option:
Programming:

Share This Product:
Overview
SHARP UP-700 Cash Register
• DISCONTINUED MODEL •
REPLACEMENT MODEL: NCC Hisense HK570 Touch Screen POS Bundle

The UP-700 delivers the kind of power that's so critical in today's highly competitive hospitality marketplace. High performance software enables optional gift card and contactless payment functionality as well as "on-the-fly price changes, daily specials and combo meals with an upsize function. The key to the UP-700 is its flexibility, expandability and versatility to fit even the most demanding hospitality environment. With a wide range of PLU menu keys, high-speed industry standard Ethernet LAN communications, flat micro-motion keyboard, integrated thermal receipt journal printer, the UP-700 is a truly amazing system all at a price point that is sure to please.
Flat Keyboard

- 144 key locations
Thermal Receipt and Journal Printer
PLU Menu Keys
Open & Closed Guest Check files
Supports; scanner, scales, etc.
Built-in Ethernet TCP/IP and 2 x RS232 Ports
Networks up to 64 terminals
Mix & Match Tables
Multiple menu levels
Easy price Changes
Learning function for UPC codes (UPC /EAN)
Combo Tables, Upsize Keys
Function Look-up keys
Macro function keys
Price Inquiry
Training Mode
Charge posting (customer files)
Credit Card interface
7 Bill - 5 Coin metal drawer