Categories
Manufacturers
Cart Contents
Your cart is currently empty
Subtotal: $0.00
Find Us On
Sale Item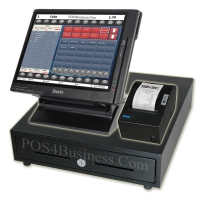 NCC SPT-3000 Touch Screen POS Bundle
$2195.00
Share This Site
Knowledgebase
Security Seals
Product Details
Sam4S ER-265EJ Cash Register

SKU: ER-265EJ

List Price:
$531.67
Your Price:

$392.95

Your Savings:
$138.72
Quantity:
Programming:

Share This Product:
Overview
Sam4S ER-265EJ Cash Register
These budget friendly, powerful electronic cash registers meet the needs of many merchants by providing big system features in a compact package. Stores detailed sales journal data so it can be printed on demand in a variety of formats, conveniently saved locally to an SD card or USB drive or exported to a connected PC. The flat, spill-resistant keyboard is perfect for harsh food service environments. Using the programmable key locations for preset PLUs will facilitate fast and accurate registration. The ER-265EJ supports two menu levels. Where menus change during the day, the key-sheet under the overlay is easily exchanged.
Flat-Key

Programmable Keyboard with 15 Keyboard PLUs
Built-In SD Card Reader Standard
3 Standard RS-232C Ports and 1 USB Port
1 Ethernet Port Standard
Electronic Journal Replaces Need for Journal Paper Rolls
Stylish Black Cabinet Complements Most Retail Settings
Two-Line, 16 Character, Blue Backlit, AlphaNumeric, LCD Operator and Customer Displays
Fast 15 Lines per Second Thermal Printing with Drop and Print Paper Loading
Wide 2 1/4" (58mm) Thermal Paper
USB Port for USB Flash Drive or Scanner
Heavy-Duty Cash Drawer with Media Slot
Programmable Graphic Logos for Coupons and Advertising Messages
FREE Programming and reporting software
Credit Card Interface Up to 8,500 PLUs