Categories
Manufacturers
Cart Contents
Your cart is currently empty
Subtotal: $0.00
Find Us On
Sale Item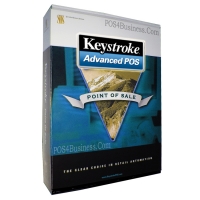 Keystroke Advanced POS - Version 8
$1795.00
Share This Site
Knowledgebase
Security Seals
Product Details
Sam4s POS TABBY

SKU: SAM4S-POS-TABBY
Overview
Tabby is a non-cloud web application, hosted on a proprietary, local embedded server so small that can be plugged right into your receipt printer. Since it is local, does not require an internet connection. Tabby's features are similar to the feature found on SAM4s electronic cash registers. Sales are tracked by item, department (group), time, day and operator. Cash, check and electronic payments can be accepted. Sophisticated functions for tax calculation, discounts and combo purchases are available. Reporting is graphical and rich. Owners and managers can access a sales dashboard remotely.
PACKAGE INCLUDES
Sam4S Cash Drawer Model 57 with Media Slot
SAM4s Ellix 40 thermal receipt printer
Tabby provides serial ports, simplifying connection to POS peripherals such as printers, displays, scanners, and Datacap intergrated payment devices. Cash drawers are connected to the drawer port on the printer. Tabby is a WEB Server integrated in the SAM4s Ellix 40 POS printer and provides a basic retail POS software application. Tabby runs on any browser capable device regardless of operating system, including PCs, mobile devices or tablets.
One huge advantage of the Tabby system is scalability and potential growth . Because the Tabby is upgradable and not hardware dependent your system will always be able to be upgraded to have the latest and greatest features and functions in both hardware and software.

Tabby does not rely on tablet or device resources.

Tabby provides features similar to those found on sophisticated SAM4s electronic cash registers. Operation is simple; tablet savvy operators can be trained in minutes.

Access reports remotely or at the store. Sales are tracked by item, department, time, day and operator. The sales overview dashboard provides a quick look at hourly, day of week and sales by day for the current month.

Detailed reports and charts can be retrieved in seconds.

Feature rich POS. With analytic reports, user rights and access control, inventory management, extended statistics and plenty of other features, Tabby is all you need to control and grow your business.

Tabby works with ANY browser capable device, whether tablet or workstation.
Many tablet-based POS solutions are "apps" that are downloaded and resident on the tablet. "Apps" are usually written for either Apple IOS or Android. IN contrast, Tabby is not an "app". Tabby runs on the Tabby enabled Ellix 40 smart printer and is operated from any browser capable device> Windows, Apple or Android.
Other tablet solutions are Cloud-based. Here the POS application depends on persistent internet connection for both the application and the data storage. Tabby's application and data are stored on the Tabby device in the Ellix 40 printer and do not depend on a persistent internet connection.
Tabby is sold, installed and supported through an established network of professional POS dealers. Rely on your Tabby dealer to install your Tabby hardware and the POS peripherals that you require. You can bring your own devices (BYOD) or your dealer can provide commercial grade POS tablets and peripherals. Program maintenance is simple and intuitive. Add items or change prices in just a few touches from either the item option screens or from the item database.