Categories
Manufacturers
Cart Contents
Your cart is currently empty
Subtotal: $0.00
Find Us On
Sale Item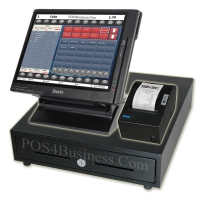 NCC SPT-3000 Touch Screen POS Bundle
$2195.00
Share This Site
Knowledgebase
Security Seals
Product Details
Sam4S / Samsung Kitchen Video System - E-PAD

SKU: E-PAD-710000
Overview
Sam4S / Samsung Kitchen Video System - E-PAD
A powerful way to speed up service to your customers and increase employee productivity. The E-PAD Controller is a KDS workhorse. This miniature device is ideal for tight placement within the kitchen workplace while handling all of today�s KDS demands. The keypad bump bar unit is used for reliable and durable key entry at the kitchen station. This plug-n-play device provides 4x4 key matrix for a total of 16 keys to perform all KDS functions with the press of a key.
The E-PAD controller unit provides 100% backward compatible software migration for all vendor applications currently running with the MicroPlus M-PAD or PC based KDS products.
Features
Quick and Reliable Installation
Easy to Install
Flexible Configuration
Compact Size
Expandable
Powerful Processing
Maintenance Free Operation
Provides Detailed Management Reports
2 Serial Ports, 1 Ethernet Port, 3 USB Ports
Supports most Cash Register and Point of Sales
Includes: E-PAD Controller and Keypad, Power Supply, Built-In Software.