Categories
Manufacturers
Cart Contents
Your cart is currently empty
Subtotal: $0.00
Find Us On
Sale Item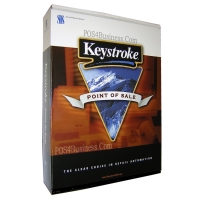 Keystroke Point of Sale - Version 8
$1195.00
Share This Site
Knowledgebase
Security Seals
Product Details
Sharp Data Wizard - Small Business Edition

SKU: UPSDWSBU
Overview
SHARP Data Wizard - Basic Modules - UPSDWSBU

Increase the functionality of your Sharp electronic cash register or point-of-sale system with SDW Back Office Management Software. This management software provides advanced features your business needs to operate efficiently and stay competitive. With an interface designed to provide access to vital retail statistics, detailed reporting and polling features, its easy for managers and business owners to monitor store operations. Intuitive and user-friendly, Sharp's SDW Back Office provides information you need to keep your business growing and on the right track. The Sharp ECR or POS may connect to a PC via its RS-232C serial interface through a direct connection or a modem, or via an Ethernet network (compatible models only) using the TCP/IP protocol, Ethernet hub, and Ethernet.

SDW Basic Modules - UPSDWSBU
Small Business without in-line support
Supported ECRs and POS systems: ER-A410, ER-A420, ER-A450T, ER-A520, ER-A530

Graphical user interface: Customize the look and feel of favorites and shortcuts to enhance user friendliness.
Automatic Scheduling: Configurable based on user requirements to facilitate communications and printed reports automatically.
Central ports management: Connectivity through RS232 direct cable, modem or Ethernet LAN using the TCP/IP protocol.
Automail: Deliver html and/or CSV formatted Z reports to virtually anywhere using a standard email client service (requires ASCII I/E module)
Preset management: Define your system programming and sales items at a click of the mouse
Report analysis: Flexible or defined report period selections and fiscal rebooking controls help keep data accurate and relevant
Receive, change programming settings and send it back to the register
Receive, evaluate and print sales data reports Scheduler for automated operations
Report retrieval
Program change sending
Data export /import
Historical Reporting - Selections include Date Range Last Week, Last Month, Last Year, etc.
Optional Modules
SDW Back office may be expanded with optional modules:
ASCII Import/Export - Model UPSDWASC
Add the Ability to share data with other PC systems using the definable export options.
Export programming data, make changes elsewhere and import the new file using the helpful Import Assistant.
Host Client Network - Model UPSDWNET
Centralize head office manage data – creates workgroup environment accessible by more people within the same office.
Report Agent - Model UPSSDRP1
Present graphical analysis based on defined profiles and archive for trend analysis.
Report Agent 1-5: Model UPSDWRP1
Report Agent 6-10: Model UPSDWRP2
Report Agent 11+: (unlimited) Model UPSDWRP3
Bar Code Printing - Model UPSSDWBCD
Easily print bar codes using RS-232 DB9 serial interfaces. Compatible with standard printer and Sharp MFP products.
Receipt Viewer (TLog models only) - Model UPSDWRVW
Filter, find and view a representation of the actual receipt from the original time of sale. Aids in loss prevention.
Stock Keeping - Model UPSDWSTK
Control costly inventory overhead by building data profiles and analyzing inventory transactions and status.
Password Authority - Model UPSDWPAS
Provide access to essential information to authorized personnel while controlling access for others; includes 99 levels of authority covering every SDW function.
Key Sheet Printing* - Model UPSDWKEY
Create professional key sheets using Microsoft Word®; reduce costs and increase convenience and flexibility when making menu changes. *Requires MicrosoftWord 2000® or later
Enterprise / Location Control
Additional Outlet / Branch (2-5) - Model UPSDWOL1 Additional Outlet / Branch (6+) - Model UPSDWOL2
Note: The above modules are dedicated interfaces which require usage of the UPSDWSBU or UPSDWBM1 products.