Categories
Manufacturers
Cart Contents
Your cart is currently empty
Subtotal: $0.00
Find Us On
Sale Item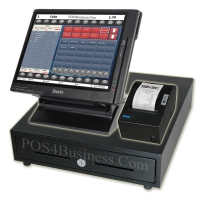 NCC SPT-3000 Touch Screen POS Bundle
$2195.00
Share This Site
Knowledgebase
Security Seals
Product Details
Epson TM-U230 Kitchen Printer

SKU: TM-U230

List Price:
$495.00
Your Price:

$355.00

Your Savings:
$140.00
Quantity:
Interface:
Color:

Share This Product:
Overview
Epson TM-U230 Kitchen Printer

• DISCONTINUED MODEL •

REPLACEMENT MODEL IS: Epson TM-U220B

Epson's TM-U230 single-station impact printer is ruggedized to provide reliable, high-quality performance in kitchen environments. Built with the same high quality and reliability of Epson's best-selling TM-U200B impact printer, the new TM-U230 offers fast, two-color order printing and an exceptionally durable case that stands up to harsh kitchen conditions. It also offers Epson's exclusive right-side-up printing for easy reading of kitchen orders.
Kitchen Printer

Auto Cutter and Two Color Printing
High-quality impact printer specially designed for kitchen environments
Fast and easy-to-read one- and two-color printing
Flexible installation on countertop or wall using optional bracket
Semi-automatic paper loading
Helpful "near-end paper" and "paper out" sensors
Convenient right-side-up order printing
Two Year Manufacture Warranty
Available in Black or White.
Available Interfaces: Serial, Parallel and USB