Categories
Manufacturers
Cart Contents
Your cart is currently empty
Subtotal: $0.00
Find Us On
Sale Item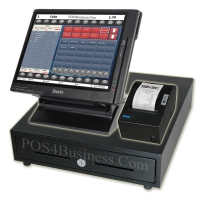 NCC SPT-3000 Touch Screen POS Bundle
$2195.00
Share This Site
Knowledgebase
Security Seals
Product Details
Avery Berkel IM100 - Standard Display

SKU: IM100-NOPOLE

List Price:
$2095.00
Your Price:

$1495.00

Your Savings:
$600.00
Quantity:
Capacity:

Share This Product:
Overview
Avery Berkel IM100 - Standard Display


!!! NOT AVAILABLE !!!

Recommended Replacement Model: CAS LP-1000. (Click to View)
The Avery Berkel IM series scale focuses on the essentials that retailers told us they wanted from a counter service scale. It features the latest technology, easy back office integration, environmentally sound and great design. It has everything you need and nothing you don't. The IM100 is stylish, one-piece scale with an integral printer, a vendor display / keyboard, and a customer display.
Label Printing
Compact - Smaller Footprint, Lower Height leads to increased counter space
Standard Data Storage for around 6000 PLUs
Integrated Vendor & Customer Display
42 Programmable Keys
Bright, Clear Graphic Display
Graphic Label Printing
Interfaces: 1 x RJ11 Ethernet, 1 x RJ12 Cash Drawer, 2 x USB
Capacity: 30lb x 0.005lb
Legal for Trade