Categories
Manufacturers
Cart Contents
Your cart is currently empty
Subtotal: $0.00
Find Us On
Sale Item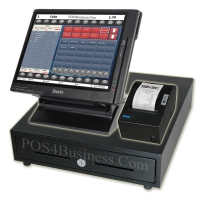 NCC SPT-3000 Touch Screen POS Bundle
$2195.00
Share This Site
Knowledgebase
Security Seals
Product Details
Avery Berkel IX100 - Standard Display

SKU: IX100-NOPOLE

List Price:
$1595.00
Your Price:

$999.00

Your Savings:
$596.00
Quantity:
Capacity:

Share This Product:
Overview
Avery Berkel IX100 - Standard Display


!!! NOT AVAILABLE !!!

Recommended Replacement Model: CAS LP-1000. (Click to View)
The stylish Avery Berkel IX Series printing scales offer an outstanding range of features at the lowest price available. Designed to suit small independents and convenience stores, the IX series meets the essential needs of the local retailer at the most economical price. With free PC-to-scale software and a compact footprint to suit a variety of counter sizes, it's never been easier to maintain prices, labels and COOL standards.
Label Printing
Easy to read, backlit LCD display
Details of up to 1000 products and prices can be stored and recalled
Easy access thermal printer
Wipe clean, membrane keyboard
Envelope pocket for custom keyboard overlay
Most Economical Scale in its Class
Network up to 9 Scales
Fast Loadign Printer with Take UP Spool
FREE MX020 PC To Scale Software
Legal for Trade