Categories
Manufacturers
Cart Contents
Your cart is currently empty
Subtotal: $0.00
Find Us On
Sale Item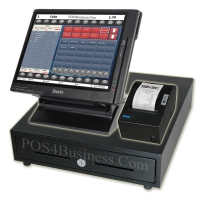 NCC SPT-3000 Touch Screen POS Bundle
$2195.00
Share This Site
Knowledgebase
Security Seals
Product Details
Avery Berkel FX220 - Standard Display

SKU: FX220-NOPOLE

List Price:
$545.00
Your Price:

$299.00

Your Savings:
$246.00
Quantity:
Capacity:

Share This Product:
Overview
Avery Berkel FX220 - Standard Display


!!! NOT AVAILABLE !!!

Recommended Replacement Model: CAS S2000-JR . (Click to View)
Avery Berkel FX220 is a high-quality price-computing scale should come as no surprise. What will surprise you is the remarkably affordable price. With the FX220, we've taken weighing technology to a new level to offer an unbeatable package to independent retailers everywhere. Designed to offer all the functions your business needs, the FX 220 is a stylish and economical business tool.
Price Computing
AC/DC Operation - Up to 800 Hours on Batteries
20 PLU Memory Locations
Digital Load Cell
Save and Add Function up to 99 transactions
Platter Size: 11.8" x 8.7"
Optional Rechargeable Module
Optional tower display available
6 'D' cell batteries (not included)
Capacity: 30lb x 0.005lb
Legal for Trade