Categories
Manufacturers
Cart Contents
Your cart is currently empty
Subtotal: $0.00
Find Us On
Sale Item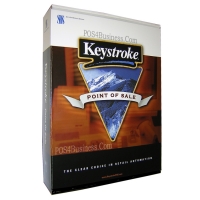 Keystroke Point of Sale - Version 8
$1195.00
Share This Site
Knowledgebase
Security Seals
Product Details
Casio TK-3200 Cash Register

SKU: TK-3200

List Price:
$649.00
Your Price:

$549.00

Your Savings:
$100.00
Quantity:

Share This Product:
Overview
Casio TK-3200 Cash Register

• DISCONTINUED MODEL •
REPLACEMENT MODEL: SAM4S ER-940


The all-in-One Performer for your Hospitality/Retail Needs. The keyboard is divided into a raised section and a flat section. The raised utilized all the function keys, and the flat side organizes your PLU's. The flat keyboard is reversible. This is great for restaurants as one side can funcion as a lunch menu and the other side as a dinner menu. The TK-3200 offers six (6) menu levels and a large flat keyboard to assign your various items to physical keys, making item registration simple and quick. The TK-3200�s two (2) serial ports allow connectivity to a variety of peripherals including serial printers. External printers can be used to expedite orders to the kitchen and print customer�s detail guest checks (max 200) for presentation. A PC may be used to make program changes, store programs, poll sale totals and control inventory.
Reversible Flat 108 PLU Keyboard
High Speed Impact Dot Matrix Printer
Two serial ports allow connectivity to a variety of peripherals
Scans up to 5,000 items (UPC/EAN) with Inventory Control
CRV/Bottle Linking, Food Stamp Functionality
Two Line Alpha-Numeric Operator Display
Optional I/O PB-14 Board Allowing up to 32 Terminals Being Connected Together
Credit/Debit/Gift Card/EBT/Check Verification
Heavy Duty Cash Drawer with 5 Bill /5 Coin and Media Slot
Built in Validation Printer
10 Tax Table
PC Connection Direct or Via Modem